Motoparking - height 1,50 metres / payload 350 kg
Motoparking is especially designed for lifting motorcycles or scooters inside a box and parking a car under it, saving parking space.

Motoparking doesn't require to be fixed to the floor or leaned to the wall: its base provides enough stability. Anyway, the column can be fixed to the wall, for a greater stability, through suitable holes.

The product is made in Italy by our company and meets the requirements of the european directives 2006/42/CE.
Parking a car under a motorbike: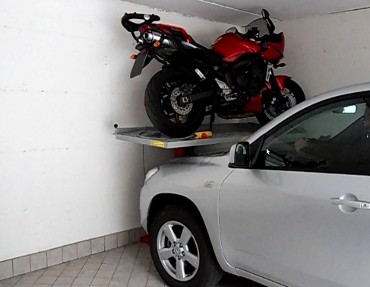 Parking a motorbike under a motorbike: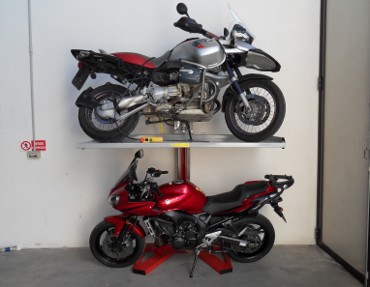 Don't miss our special offer

Price: euro 2370.00 - discounted euro 2150.00 (shipping not included)
Delivery time: 5 working days + shipping


Order Motoparking online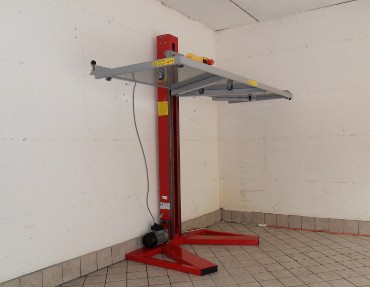 The platform can be lifted even without a motorbike, in order to park a car. The base width is lower than the car's track, so that the vehicle can pass.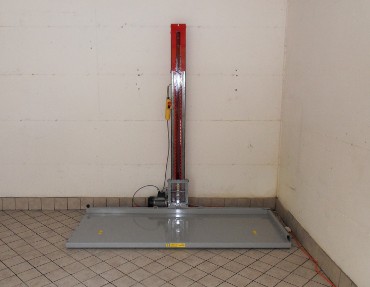 The platform can be lowered to the ground in a few seconds. The key lock emergency button allows to secure the lift against unauthorized use.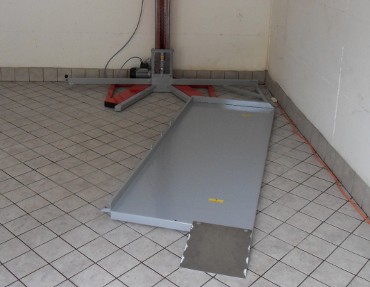 After unlocking, the platform opens, sliding on 6 PVC wheels.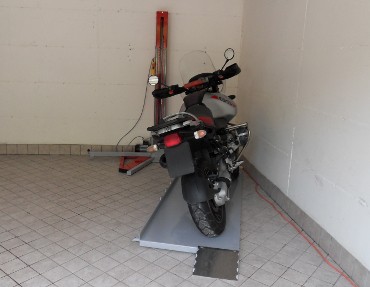 A little ramp, provided with the lift, allows to easily overcome the 6 cm gap between the floor and the platform.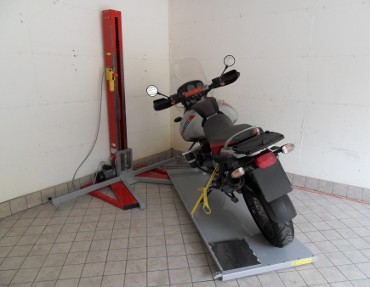 In order to fasten the motorbike, the platform comes with suitable hooks. Centerstands or kickstands may be used.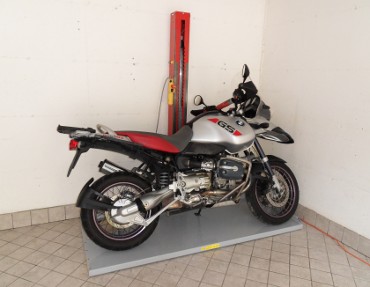 The picture shows the platform closed and locked; the limit switch avoids any operations until the platform is completely closed.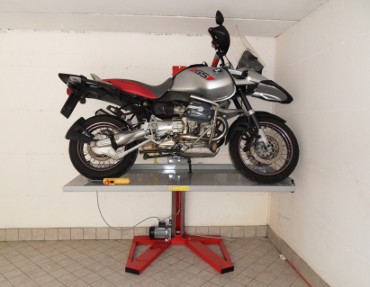 The lift is equipped with a safety brake which stops the platform in case of rope failure.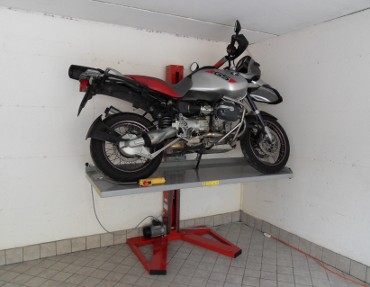 When the motorbike is lifted, a second brake may be activated. The load is now double-secured.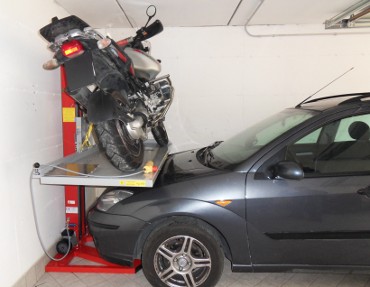 It's now possible to park the car under the platform without worries.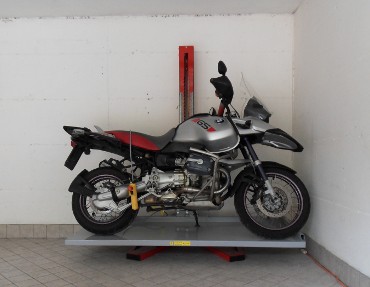 During the descent, the platform stops before reaching the floor. An acoustic signal warns the user for feet safety zone.

Motoparking comes in assembly kit; in a few minutes is ready to work in your box!
Motoparking technical features:

| Description | Value |
| --- | --- |
| Payload | 350 kg |
| Height (floor - lower edge of the platform) | 1,50 m |
| Platform size (lenght x width) | 1,97 x 0,74 m |
| Column size (edge x edge x height) | 0,15 x 0,15 x 2 m |
| Minimum width of the box | 2,14 m |
| Electric power | 220 V - 50 Hz |
| Maximum power consumption | 780 W |
| Platform rise time | 17 s |
| Platform speed | 5,3 m/min |
| Total weight | 155 kg |