This unit is one of the most sophisticated aerial lifting systems for moving furniture into upstairs apartments.

This unit was designed to withstand heavy working loads under most variable operative conditions while short width and retractable drawbar ideally meets with narrow space requirements.

It features an especially rugged construction by reduced weight and dimensions. Designed for most varied applications and working conditions, this unit is capable of withstand in very high loads. The DEDALO Trailer is specially recommended for working in narrow historical city areas where travelling and working is greatly facilitated by a compact size and a fully electrical very powerful power supply system (platform speed of 45m/min.). Gasoline engine is also available on request.

The highest ladder extension varies from 17.8 up to 30.2 m depending on the model and thus allows reaching out from first to ninth floor with a unique performance.

Designed in accordance with European Directive no. EC/98/37, this unit is entirely developed and manufactured by Scala Reale with special concern for operators safety.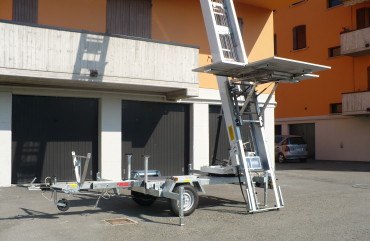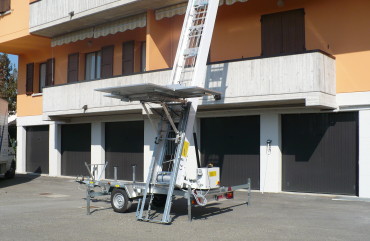 This view shows our lift model DEDALO 5.5050 (23 m) mounted on a trailer with a total mass weight of 750 kg. The drawbar is retractable in order to fit into smaller parking dimensions.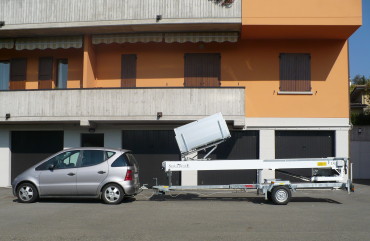 The trailer is equipped with parking brakes and inertial brakes in compliance with European Directives no. EC/91/422.
Because of reduced weight (750 kg - 1000 kg depending on the model) towing is possible with most commercial cars and vehicles.
Installation on a 750 kg total mass trailer is possible up to 23 m height.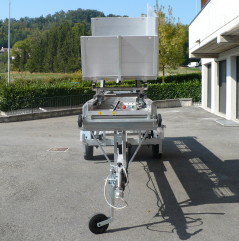 Up and down as well as safety stop buttons are available on the lift top.
The platform front panel is both collapsible and removable.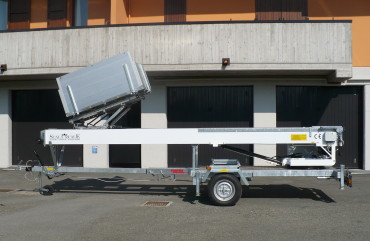 The trailer total width is 1500 mm while maximum length varies from 5 m to 5.87 m depending on the models.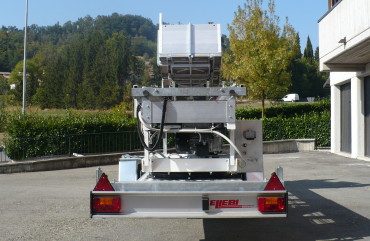 Maximum height on the rear side panel is 2220 mm. 2220.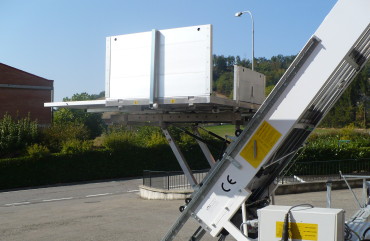 All 4 side panels are removable and are fitted with L-shaped steel brackets suitable for both horizontal and vertical settings.
Turning platform dimensions to fit into windows opening: 1422x830 mm.
Rear side panel: 650(h) mm.
Lateral side panels: 450(h) mm.
Front side panels 600x250(h) mm.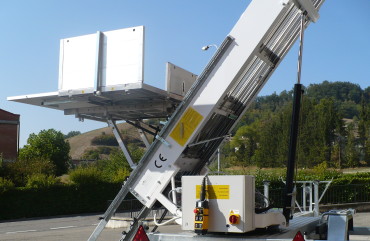 All models from 24 m are equipped with a double cylinder controlling the ladder's inclination and avoiding twisting problems. The turning device has got a double braking system available: hand brakes to perform millimetric arrest and mechanical brakes featuring three arrest positions in each working position (the front and on the truck sides).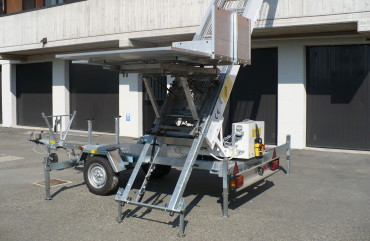 A safety system of stainless steel rods exclusively designed by SCALA REALE prevents the ladder unit from sliding down when load is put on the platform and saves the steel wire ropes from bending.
A galvanized steel ladder extension ramp is equipped with telescopic prop to support it whenever the lower end is not standing on ground.
Quick locking and releasing of the ladder extension ramp are both performed by one single lever.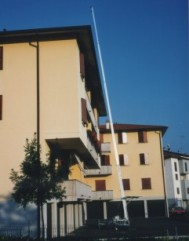 All ladder elements are made out of heavy-duty aluminum EN AW-7020 avoiding ladder bending even at maximum extension (see picture).